Waterfaller
- making it easier to boost core web vital scores
Hi, looks like your using phone or tablet. Unfortunately, Waterfaller requires a larger screens, so please return using a laptop. Feel free to read below to see how Waterfaller can do to boost page speed and core web vital scores.
Let's make your
webpage faster
SEO Experts
Site Owners
Marketers
Use Waterfaller as an alternative to Google PageSpeed Insights to find and fix problems with core web vitals and improve your page experience.
This Is Not Another Report
Most performance tools and page speed experts re-purpose PageSpeed Insights reports, but Waterfaller takes this same information, adds opinion and expertise, and delivers your next best fix. Try this one-of-a-kind app for free.
Good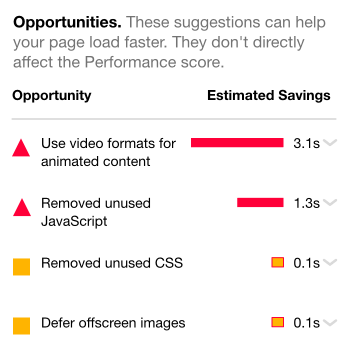 Better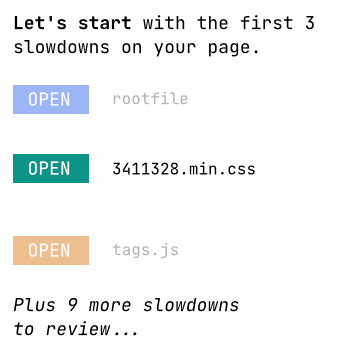 Most reports list recommendations. Starting with the slowest files loaded by your page, Waterfaller turns recommendations into detailed, actionable tasts that are testable.
Find a slow file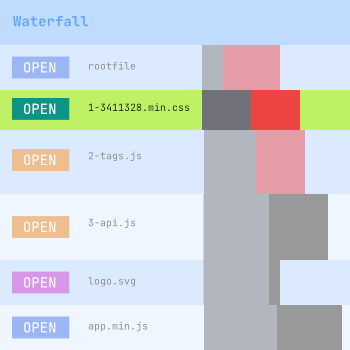 Fix it with expert tasks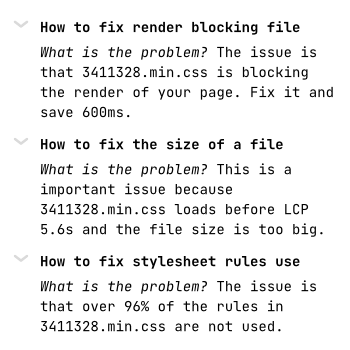 In a few minutes, you can find and fix the most important slowdowns on your page. Since Google takes up to 28 days to validate improvements, why wait to get your free analysis?
The tool pinpoints the most urgent issues, so you always know what to fix next. By exploring the waterfall, you can inventory your page and select tasks to copy into your project management software. Using this agile approach, you find your best fixes, share them with your developers, push your release, and retest until your goals are met.
Improve Core Web Vitals like an expert
You do not need to be an expert to use Waterfaller. If you're on the hook for improving page speed and are frustrated with making sense of report and blog post recommendations, then this app was designed just for you.
Waterfaller identifies every slowdown on your page pulling from an library of 30+ audits. Expertly written details help you learn why and how to fix core web vitals quickly making you the go-to performance member of your team.
The key to fast pages is hidden in the information which the browser uses to display the webpage. This data can be visualized as a waterfall which is a time-based chart that shows each file in sequence graphing download size and duration.
The tasks suggested by Waterfaller are customized to your situation, written for developers with steps for testing, and follow an agile "user-story" format.
Each has a clear definition of done and tailored to address your page's most important problems. Every task includes estimates and technical solutions to help with planning.
With all this information, you know exactly what to fix in your next release. Try your free analysis now.
About
Tim Bednar started Waterfaller in 2020 but has been working on page speed since the days of Internet Explorer 5 and WordPress Version 1.2. Waterfaller leverages over 20 years of experience to create an algorithm that allows site owners, SEO experts, and marketers to find and fix core web vital issues. If you have suggestions on how to make Waterfaller better or have examples of how it worked, please send an email or @timbednar.
Credits
Third Party Web under the MIT License provides a list of third-party observed domains and average execution times. This is read-only.
PageSpeed Insights API provides the dataset for the Waterfaller algorithm.
Built using React with optimization in process.
Components styled with Tailwind.
Web application analytics provided by Google Analytics.
Hosting provided by Google Firebase.